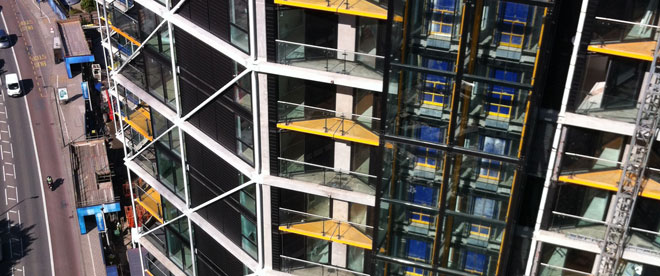 Glass Facades offer a wealth of services including the following:
Curtain Walling
Windows and Doors
Shop Fronts
Fire Screens
UPVC Windows
Unitised Elements
Structural Glazing
Rain Screen Cladding
Terracotta Cladding
Ceramic Tile Cladding
Stone Cladding
Composite Windows
Balconies
Balustrades
Brise Soleil
Louvres
Baguettes
Structural Steel Work
Maintenance
Water Testing
Glass Facades are a leading facade installation company with over 30 years' experience in the industry. With our expertise we at Glass Facades are able to take on a large and wide variety of projects of varying size and degree of complexity throughout the UK. This enables us to build long term relationships with our clients.
We also have worked on all the leading manufacturing system suppliers - Schuco, Kawneer, Reynaers, Metal Technology, Hueck, and Aluk. Many of our operatives have been trained by these system suppliers. Many of our work force have the relevant construction cards i.e. CSCS, SMSTS, Banksman/ Slinger, forklift, manual handling, leading edge, Ipaf, Abrasive wheels, asbestos awareness, Pasma.